Chiropractic sports medicine
Dr. Marostica is excited to provide care for everyday athletes in the Mesa area. As a former collegiate athlete he understands the importance of restoring optimal health to improve quality of life and athletic performance.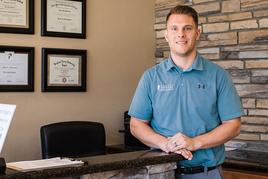 Dr. Tyson Marostica graduated from New York Chiropractic College in Seneca Falls, NY. As a chiropractic student, Dr. Marostica excelled in the classroom being inducted into the Phi Chi Omega Honors Society. He also pursued learning outside of the classroom by becoming full body certified in Active Release Technique (ART), and the Titleist Performance Institute (TPI). Both of these techniques require him to be current with the most effective sports medicine techniques and evidence- based practices. He has used his knowledge of golf, along with education from both ART and TPI, to build a golf performance program that will not only help you with every day aches and pains, but will help you hit the ball further, score lower, and enjoy the game more.
Dr. Marostica was raised in Lewisburg, PA, attending Lewisburg Area High School. As a student-athlete, Dr. Marostica excelled both in the classroom and in athletics–mainly golf and basketball. He went on to be a scholarship athlete at Utah Valley University his freshman year. After his freshman year he served a full time mission in Fresno, California. Upon returning from his mission, he accepted a scholarship to play golf at Brigham Young University-Hawaii. Dr. Marostica graduated from BYU-Hawaii with a bachelor's degree of interdisciplinary studies focusing in exercise science and biology.
After graduating from BYU-Hawaii, Dr. Marostica began working as a golf professional at Raven's Claw Golf Club in Pottstown, PA. His focus as a golf professional was golf instructions, particularly with junior and senior players. Having played golf for many years, he had dealt with his share of back pain. He found long lasting pain relief through chiropractic care which allowed him to quickly get back out on the golf course. Dr. Marostica's passion is helping the everyday athlete using sports medicine live happier and healthier lives. He defines an athlete not by the level at which they compete but by their desire to live an active lifestyle. He is very excited to be a sports medicine chiropractor in Mesa!